Alright...time for us to continue the Fans Summer with another poll, this time for the June induction. Like I said, requests will be at the bottom and there are 3 this time. So let's see which ten we get this time.
Blood Diner (1987)
First They Will Greet You And Then They Will Force You To Endure A Cheesy Movie
Blood Suckers (aka Vampire Wars: Battle For The Universe) (2005)
Just In Case You Didn't Get Your Fix Of Vampires In Outer Space From Dracula 3000
Earth vs. The Spider (2001)
Man-Spider, Man-Spider....Makes Bad Movies Like A Spider Can't
How To Make A Monster (2001)
What Started Out As A Simple Movie...Became A Cinemax Nightmare (No Boobs For You).
Devil Dog: The Hound From Hell (1978)
Better Roll Up The Newspaper For This Bad Film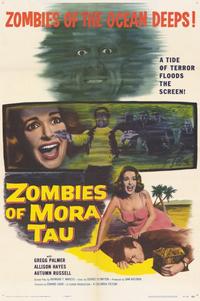 Zombies of Mora Tau (1957)
The Giant Claw Producer Sam Katzman Returns To The Nomination Radar With The Original 50 Foot Woman Dealing With Zombies Caused By Voodoo
Child's Play 3 (1991)
Chucky Wants To Be A Bro? Ah You've Gotta Be Fucking Kidding Me?
Alien Opponent (2010)
Alien Vs. Dumbasses In A Junkyard....Film Probably Should Have Stayed Junk
Snow Shark: Ancient Snow Beast (2011)
The Biggest Sin Of This Preposterous Idea Is How Boring This Film Is.
Mega Shark vs. Crocosaurus (2010)
The Mega Shark Is Back To Be In Another Craptastic Battle.
Poll closes on May 30th at 12 AM