Yeah, this year had more terrible than it did good so mentioning the worst of the worst was not easy as I had to deal with which shit was shittier than the other and that also requires me to remember terrible films I tried like hell to avoid. Oh and the cursing, expect a lot of that because yeah....this year kind of deserves that. Now here are the films I didn't see because I wasn't going to theaters to see bad films, films I didn't have enough time to see (I can't see everything), or I had no desire to see it.
* Acrimony
* A.X.L
* Billionaire Boy's Club
* Breaking In
* Fifty Shades Freed
* Gotti
* Hunter Killer
* Life Itself
* Kings
* London Fields
* Mary Shelley
* Mile 22
* Mortal Engines
* Night School
* Nobody's Fool
* Overboard
* Proud Mary
* Red Sparrow
* Robin Hood
* Sherlock Gnomes
* Submergence
* Super Troopers 2
* The 15:17 To Paris
* The Girl In The Spider's Web
* The Nutcracker & The Four Realms
* The Week Of
And now for the "crappy" films that I have seen, but they did not make my worst of the year list or even my dishonorable mentions
* Action Point
* A Wrinkle In Time
* Death Wish
* Future World
* Jurassic World: Fallen Kingdom
* Kin
* Mute
* Peppermint
* Show Dogs
* Terminal
* The Cloverfield Paradox
* The Happytime Murders (Yep, the GINO Award Winner was not one of my worst)
* The Hurricane Heist
* The Nun
* Venom
* Winchester
Now here are the dishonorable mentions.
Game Over, Man
Hacked
Living Among Us
Santa Jaws
The Titan
And now for the 25 films that I hated from this year.
25. Day of the Dead: Bloodline
Yeah, they tried remaking Day of the Dead again (because the 2008 remake show how much of a good idea that was with a vegan zombie), but instead of a vegan zombie, let's one up that with a rapist zombie. Some of the stuff is good (which is why it is so low), but yeah....it is mostly a very tedious film that gives us a zombie looking at a girl and licking his lips (not in a hungry way). If you try remaking this film again after these two failures, you better get ready to choke on those negative reviews.
24. Frenzy
Let me just say that this year's SyFy Sharknado week was terrible. This film was so freaking predictable and the only reason was for the awesomely hilarious death of a shark by falling giant boulder. You could pretty much tell early on that the sister who showed up was a mere halucination by our lone surviving girl considering she feel way behind when the plane crash and she somehow was able to come back to the sister from the other direction. But even for a hallucination, the sister does some stuff that a hallucination in no way can do. This was just a film that freaking irritated me to no end, but this is still not the worst Sharknado week shark film as there is one that is worse.
23. The Darkest Minds
Can we just stop with this whole attempt to be the next Hunger Games because unless you have a really good idea, you are just going to be pathetic. The Darkest Minds is no exception to the crap that we get. Basically something causes kids to either die or have superpowers and of course with the adults, they are scared and do horrible things. We have another movie where the villain of the film tries to rape our female lead (don't ask me why that's a thing). It has a script that makes every actor who is reading these lines to come off looking like they suck. This film of course sequel baits us big time (which considering that this film flopped, won't be happening).
22. The Secret: Suster Ngesut Urban Legend
For some reason this year, Netflix was giving us really bad horror films from Indonesia. This film with insane long ass and hard to say title, is one of those ghost stories that me and my friend were either laughing at the stupidity of a scene or being bored by a scene (no middle ground on that). Can someone explain to me this Suster Ngesut legend because I have found no such luck in my research. Oh and the huge twist that happens....it sucks and was laughable.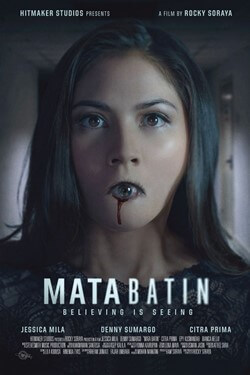 21. The 3rd Eye
Okay, this is the last of the Indonesian horror films that Netflix has. Yeah, this film suffers from being boring. From having a situation where a family can see dead people to the twist on who was behind the ghosts' being so pissed, you couldn't get me to care for any of it. The only stupid thing that I did mention is the ghosts get locked in the closet when they were alive and from what I saw, it is one of those closet doors could easily be kicked down.
20. Extinction
This movie stars Michael Pena and for some goddamn reason, decided that we can't have him be funny in any way (which what is the point of getting Michael Pena for). In this film, a futuristic society gets invaded by a force that was not on Earth. I have to specifically say that because of the bullshit twist this film gives us in that the people on Earth are androids and the invaders were humans who earlier were forced to space colonies by the androids. That happens because the humans had treated the androids badly and basically, the androids were like Twisted Sister and were not going to take it anymore. I would like to add that this film also has Lizzy Caplan (Cloverfield & Hot Tub Time Machine) & Mike Poulter (Luke Cage)....and no one was made interesting.
19. Curvature
It's been a while since I have seen Linda Hamilton in anything. Sadly, it is in this science fiction turd where our protagonist (who isn't Linda Hamilton) travels back in time to try and stop herself from committing murder on a guy who may have been responsible for her husband's death. Basically, it is a time travel film that is extremely boring and the revelation of the killer (it was her husband's business partner) is so easily predictable . The whole time travel stuff is so clunky and everyone looked like they were just here to collect a paycheck.
18. Dark Crimes
Jim Carrey tries again for a serious role and sadly, he does so in a film that is complete garbage. Yes, there is an interesting story in here somewhere, but it is suffocated by all the padding where nothing happens. This is also based on a true story and Jim does try with this film, but ultimately this film would rather be so dark that it becomes just a chore to sit through. It's too bad how far Jim Carrey has fallen (although some of it is his own doing), but when you get bad roles like these...you don't get my sympathies.
17. Nightmare Shark
This is the worst of Sharknado Week. Who in the blue hell decided to rip off Freddy Krueger, but have a shark instead of Freddy Krueger. That's seriously what this film is. They even rip off the bath scene with the claw, but instead a shark fin. This is of course directed by the same director as Arachnoquake (along with his brother) and the only reason I am going to bring that up is as I started criticizing that film, he decided to reply to me with a "Fuck You" (don't bother looking it up, he deleted it after I responded with shrug and a "thanks for noticing" tweet). This movie is so insultingly dumb and just basically craps on itself with the "Oh, it was just a dream" ending.
16. Higher Power
This is actually a movie that was well....not terrible in its first two acts. But that third act....yikes. Basically, this guy (a former drunk) has a chip implanted into his head that causes him to hear voices from this other guy who tells him to do thinks like kill people and blow buildings up or his estranged daughters die. Like I said, it kind of works for the first two acts although the CGI is bad and the acting kind of isnt good. But what destroys this film is the big twist and after all of that, this film completely goes off the rail to the point where our planet is saved by our main character turning into a star child and shielding us from something (some stream of light) that would have killed us. Yes, some guy is made into a god and guardian of our planet.
15. Dead House
This film was made and released into several horror conventions in 2014, but they finally released it into this country in 2018. You can already guess that is bad news. This is a film that teases us with being a zombie movie and the zombies really only appear with 10 minutes left of a 75 minute film. The rest of the movie acts like Funny Games of a home invasion torture of a family with the tease of the zombies from the cover. Basically, you are watching it like "when are the zombies going to show" because it is some pretty terrible acting for a home invasion. Don't watch this movie and if you do, don't say I didnt warn you.
14. The Open House
For months, I have heard how bad this film is and in December, my best friend as a gag decided my 2018 worst of list wasn't complete until we saw this film. Well, I did and this home invasion movie is one of the worst. Basically, everyone except one guy (he dies of course) is completely unlikable (including our two main characters) so you have no care if they live of die. Oh and the most laughable part is in the beginning when the dad is killed because he is sandwiched in between a wall and a car, driven by of all ironies, a man who is already dead from a heart attack. The killer is also just some guy so there really isn't a murder mystery despite the film trying to tell you that it is.
13. Killing Joan
Well, if it isn't our own pals from Uncork'd Entertainment who released this terrible movie. Terrible CGI, some bad acting, and poor editing that completely skips out scenes so they can only be mentioned by someone as happening that we never see make up this disaster of a movie. Oh and there are people who also disappear with no explanation like Donna (played by Katarina Leigh aka former WWE female wrestler Katie Lea Burchill). Oh and our lead looks and acts like a poor man's Carrie Ann Moss.
12. The Package
Remember how much I hated Mike & Dave Need Wedding Dates? Well, from the same director of that shit comes a film where a dumbass cuts his dick off and due to a snafu with giving the wrong cooler, they have to race to the hospital to get the severed member to their friend before it rots. I really have nothing to say as this tries to be The Hangover with teens, but doesn't come close to the humor of that first film. Bad acting, two guys and two girls that the film basically forces to become couples by the end, plenty of disgusting humor, and bullshit ways to continue this film make this a godawful experience, although one of the girls thankfully was also in Blockers so maybe she will still have a career after this.
11. Immortal Wars
This film has Eric Roberts and Tom Sizemore as its two biggest names and they are both wasted in a film that tries to be X-Men mixed with the Hunger Games. First of all, everyone in this film (including Eric Roberts and Tom Sizemore) are terrible in this film, the effects are some of the most laughable, you dont even know half of the characters names or powers, and in one of the worst moves this year, the film just.....ends. There is no final battle or anything, it just ends. Unfortunately, this film and a sequel were shot back to back so this film is getting a sequel no matter how terrible this is (and I guess we will try to continue from there). Oh and by the way, the comic this is based off is from the director of this film who probably thinks we should appreciate his work in movie form. Just like Heavenly Sword video game & movie, this comic and movie was planned to be a big success, but this will probably be completely forgotten about except for being on this list.
10. The Manor
Can I say that this DVD cover is a lie? Kevin Nash is only in half the movie and he has no bearing on the plot other than to be a side character (although the most likable character). It's basically a family reunion with a daughter who finally was released from a mental institution so they rent part of this manor (it also has other tenants who have rented other parts as well) and suddenly, some "demon" comes and starts killing people around the girl who was in the mental institution. This is a boring film with them basically cutting to somewhere else every time a kill is about to happen. And then the big twist comes and like many of these films, it is terrible.
9. Romina
Where to begin with this Mexican revenge/slasher film. Almost every one of our so called people we follow in this film is unlikable to the very core. We almost have scenes completely out of order. Yes, this film is about friends going on a trip, they find an attractive girl, two of them decide to rape her, and then this attractive girl two guys out of the group raped decides to go on a killing spree of everyone in that area. Oh and the twist makes no fucking sense if you think two minutes about it. Every fucking time somebody gets killed, their death gets edited to fucking shreds so we can only see what leads up to it and the aftermath. It's not very smart for a film to have all these issues
8. Slender Man
Dear god....the Slender Man meme was way dead when some studio decided "Hey...let's make a horror movie out of it." But instead of telling a tale of Slender Man making people kill others for his amusement, they decided to make a movie where we basically make out own rules for Slender Man and try to exploit a freaking creepypasta to make some money. Well, let's just say what we suffered through was an extremely boring film that had to be cut for a PG-13 rating. Oh and whose bright idea was it to get the lead from the godawful Wish Upon and the psychopath from When The Bough Breaks and make them so dull and lifeless. Actually, everyone in this damn film is just as lifeless as the Slender Man is. You might as well play one of the Slender Man video games as you will get more enjoyment and fear from that than this film.
7. The Lullaby
If you have heard of situations of women dealing with depression after giving birth (in the news, it normally ends in the worst ways), you know how terrible this situation can get. Unfortunately, when you don't have good acting or good pacing, you don't get any fear or tension. You can thank the director of Dracula 3000 for this boring mess that even makes Dracula 3000 enjoyable. Basically, we have a mother who just gave birth (revealed to be the product of a rape) who is being haunted by some kind of spirit from a lullaby (thus the title). Nobody in this film comes out looking good and once again, we get some very piss poor CGI for the ghost.
6. The Lotus
Other than zombies, terrible camerawork, and some guy caused all of it, I originally forgot all about this movie. However, upon looking back....I remember why I hated this movie so much. This movie was terribly edited with a scenes completely out of order, has some dreadful acting, and completely has the involvement of aliens....just because. This is a complete mess that really makes me wonder why in the blue hell it was called The Lotus. Oh and this was made in 2015 and shown only 3 times (in the same city) before it gets dumped onto DVD in 2018. Gee...I wonder what could have stopped them from wanting to mass market this film.
5. Dominion The Last Star Warrior
This is perhaps the cheapest made movie on this list. All of that great promise of a great star battle with Earth being a target for aliens......isnt there. Instead, we get aliens merely in human skin (because we couldn't afford alien effects) and all of this taking place in the desert. I would say this is much like Battle For Skyark (and I did in my GINO Award nomination in this film), but even Battle For Skyark seems to have a bigger budget. Again, this is another movie that was made in 2015, but released this year. The first name on the marquee about is Booboo Stewart (who had a small part in Twilight: New Moon as one of the werewolves) and he is only in the movie for 5 minutes. Lisa Marie (Vampira from Ed Wood) is also in this movie, but I really dont remember who she played.
4. Truth Or Dare
The worst movie in theaters this year...in my opinion. This movie has some decent actors on it, but this movie has a terrible script and those actors are given some very unlikable characters. The Truth or Dare game is so blah that they have to make a special rule for this Truth of Dare game halfway through the movie. Basically, there is also a demon involved and you will notice this demon from the godawful CGI face filters this film puts on people's faces. And then there is the ending. Basically, it is one of the ending where the main characters to delay their own deaths by fucking most of the world to have to play this fucking game. So congrats to our main characters, you are responsible for millions or billions of people who are going to die or are doomed to suffer. Unfortunately, this movie made money over its budget so there sadly may be a sequel to this shit.
3. Seven In Heaven
Notice that I didn't say this was the worst Blumhouse movie for the year. That dubious honor has to go to this bullshit that was so bad that they had to only dump this on the internet. Basically, a bunch of teens at a party are playing a game of seven in heaven where through very rigged ways, this geek who the bully hates gets put in for seven minutes in the closet with the bully's girlfriend (the fucking bully is the one who rigged it too). Then these two do nothing and are whisked away to an alternate dimension where characters are different and some people who are dead are still alive and vice versa. The only recognizable person who is somehow a person who is all knowing in all dimensions is the actor who played the boss from Office Space. Oh and one more thing, Blumhouse was so in love with Truth or Dare that the game is in this movie too.
2. A Demon Within
A movie that has all the goddamn check marks for horrible movie in my mind. Kid gets pointlessly killed, bad CGI, really bad acting. terrible pacing, terrible script, and the movie that has the ending, but keeps going. I saw this movie and this was the worst movie of the year for the longest time (in fact, I only found a worse movie in the last month) and my friend wanted to see this movie to see how bad it was...........and he fell asleep before finishing it. This says it is based on some true events from the 1870s, but I highly find that claim dubious at best. I have nothing more to say about the Exorcist clone and I recommend you don't see this.
1. 2036: Unknown Origin
When I put this movie on my Instant Queue, I was not looking for any more of the worst movies of the year. Personally, I had my list complete, but I saw Katee Sackoff in a science fiction film and I said to myself "Why not?" I really wish I had not watched this film at all. So to save you time from watching a horrible goddamn 90 minutes that will feel like 3 hours, I'm basically going to tell you what happens in the shortest way possible. Katee Sackoff argues with a computer during a mission to Mars and inadvertently causes Earth to blow up so she now has to find a new world for us with the help of that same computer she was arguing with. If you try to think any more about this movie with other characters and other shit, you will be lost, so I'm also saving you from your head exploding with questions.
Now that I have finished my two lists, I can now move onto inductions with the first being the one you all voted for.
Jim Henson Help Us....