With the Dracula 3000 induction almost completed, it is time once again for you the fans to decide which film I will induct next into the halls of Monster Crap for November of 2011. We have 10 films for you to vote on and here are the choices.
The Fog (2005)
Well Known For Being One Of The Worst Remakes Of All Time
Teenage Caveman (2002)
Worst Remake Of A Roger Corman Film…………..Ever
Bats (1999)
Is It Just Me Or Do These Bats Suck Feces Instead Of Blood
War of the Worlds (2005)
To Coincide With The Spielberg Borefest, Asylum Released Its Own Version Of This H.G. Wells Epic, Starring Soul Man
Chupacabra Terror (2005)
This Film Can Go Suck A Goat's Nuts
Mortuary (2005)
Tobe Hooper Gets Nominated For Monster Crap With A Film That May Be A Cure For Insomnia
The Last Sentinel (2007)
Even The Fanboys Delight Known As Katie Sackhoff And One Of My Favorite Voices In

Actor Keith David Can Not Save Us From The Crap & Boredom That Comes With A Movie Starring Don "The Dragon" Wilson.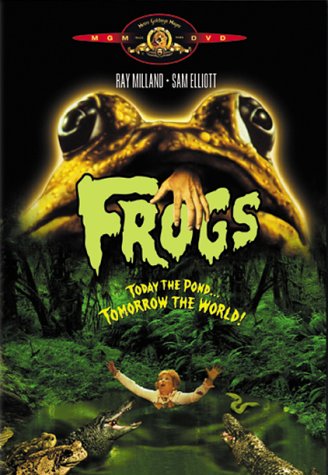 Frogs (1972)
Watch As Our Titular Creatures Do Just Absolutely Nothing Except Bark Orders To Other Animals In The War To Kill A Rich Family Who Just So Happens To Be Pissing Them



The Wasp Woman (1959)
Susan Cabot's Sad Story Includes Her Final Film Being Terrible
Wing Commander (1999)
Sometimes Giving An Adaptation To The Guy Who Created The Source Material Is Not The Right Move To Make