Happy New Years, everbody. While I am sure you were anticipating 2010 by either finding someone to kiss, getting drunk, or both; I was attempting to find 25 movies to nominate for the 2009 GINO Award (Worst Film Of The Year Involving A Monster). Now while one of these movies may technically be 2008 (Black Devil Doll), it was released on Dec. 31, which was way past the time I decided the list for 2008's GINO Award Nominees. Some of these movies may be so bad they are bad and some of these movies may be so bad they are awesome. However, all of these films would deserve the title of GINO Award Winner, which has been previously won by Epic Movie (2007), 10,000 BC (2009 tied), and Disaster Movie (2009 tied). In less than a hour from when I post this, there will be a poll that you can vote on to decide the winner.
PS...If the winner is not on DVD yet, I will delay the induction until it is out on DVD.
Edit: I forgot to add this One. In the Poll, it will between Carny & Dead Air. The choice is below
Children Of The Corn
This Corn Is More From Your Poop Than From The Fields
Now for the rest of the nominees.
Against The Dark
Steven Seagal Vs. Vampires.....Not As Interesting As It Sounds
Anaconda 4: Trail Of Blood
Now We Have Two Bad CGI Snakes Instead Of One.
Black Devil Doll
Foul Mouthed Puppet In One Of The Most Anticipated Awesomely Bad Movie. You Know This Is Getting Nominated
Boogeyman 3
A Girl From My High School Stars In This Sequel That Really Was Not Needed
Carny
Lou Diamond Phillips Needs To Stop Doing Creature Features
Dead Air
Just As Bad As A Radio Station Actually Experiencing Dead Air
Dragonball: Evolution
The Level Of Suck To This Film Is Over 9,000!!!
Evil Bong II: King Bong
You May Need A Bong After Watching This Movie.
Happily N'Ever After 2
As Long As These Films Exist, None Of Us Will Live Happily Ever After.

It's Alive
This Remake Should Have Been Aborted
Mega Shark vs. Giant Octopus
My Childhood Crush Stars In A Film That's Title Alone Inspires Crap
The Messengers 2: The Scarecrow
The Only Message The Viewing Audience Got Was This Film Sucks.
New Moon
Normally I Would Not Bother With This Film, But Several Twilight Fans I Know Requested That I Induct This Travesty To Their Cherished Novels.
Phantom Racer
I Liked This Movie.....When It Was Called The Wraith
S. Darko
Because The Ending Of Donnie Darko So Required The Story To Continue. Notice The Saracsm There?
Stan Helsing
We Will Need Van Helsing To Slay This Abomination.
Thankskilling
I've Done Movies With A Killer Puppet, Pinata, & Snowman. Why Not Do A Movie With A Killer Turkey?
The Grudge 3
The Only People Cursed By This Will Be Anyone Who Watches It. That Curse Will Be They Wasted 90 Minutes Of Your Life Watching This.
The Land That Time Forgot
Soul Man Directs A Remake. Why????
Transmorphers: Fall Of Man
A Prequel To One Of The Worst Films I Have Ever Seen. Oh God....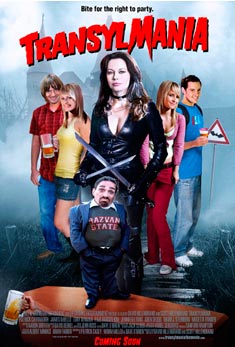 Transylmania